Hi there!
If you've followed my works over the years, you might know that I haven't ever video broadcasted myself while speaking. For years, I didn't have more than a single photo of myself online.
I have a list of reasons for that, but one of the big ones is that I didn't want anyone to be drawn to my work (or shy away from it) due to physical attraction or non-attraction.
Because the reality is that our brains make instant judgments of people based on how they look. Then our limbic system fires and says, "Mmm yes, more of that face" OR "Nope, no more of that face." Either way, faces can be distracting, especially because I encourage people to close their eyes to take in what I'm teaching more deeply.
I had other reasons that have to do with privacy, avoiding online stalkers, maintaining healthy boundaries and staying out of the realm of social media.
But now I have pulled back the metaphorical curtain…
I recently did a video interview with a friend and past client, Crystal Storm on her WooWoo hour podcast. It was a lot of fun, and the hour flew by as we talked about my early life, the chapter I wrote for the "All You Need Is Love…?" book, my upcoming "Loving Wholeness" MasterClass and a lot more.
You can watch the video on my new "Cameron Day" Youtube channel here: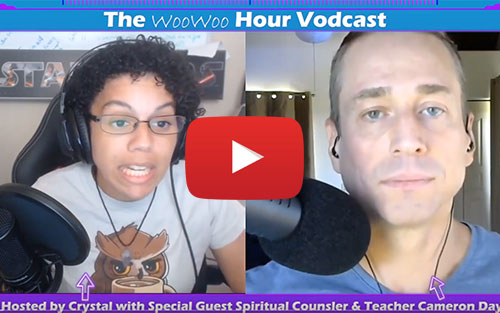 If you're into Youtube, I'd love it if you subscribed to my new channel. While I'm not going to become a "Youtuber" with weekly videos, I will put up new videos onto that channel from time to time.
As for the new class, I am working on it steadily, and I already know it is going to be the most important, most transformational and most accessible class that I have created to date.
We will be going DEEP into the subconscious, deep into shadow work, and working with parts of the psyche that are easy to miss when doing inner work / energy work.
More to come in the (relatively) near future…
Much Love,
Cameron Day
ManifestClearly.com
AscensionHelp.com
GeniusBrainPower.com